5 Interesting Facts about Bromo to Ijen Crater Trip
For those who love to explore Indonesia cities, east java is a must to visit, especially travelling from
Bromo to Ijen Crater. Speaking of travelling from Bromo to Ijen Crater, this tour is all about catching the sunrise at the peak of bromo mountain and ijen mountain. Mount Bromo is located in the area of Bromo Tengger Semeru National Park and Ijen Crater in Banyuwangi. Both places have their own uniqueness. Mount Ijen is an active volcano which height is around 2.799m, located in Banyuwangi regency,
East Java. Ijen crater is one of interesting tourism place that has green colored crater with hot temperature which depth is around 200 m. There are at least 10.000 tourists visit this place to see the beauty of Ijen Crater that also popularly known as "the lands above the clouds". Even Ijen Crater has its own milky way view that as beautiful as the milky way in Bromo. If you are interested to do Bromo to Ijen Crater trip, then it is a must for you to finish reading this article as you will also get some insights of what you need to know and prepare
1. Milky way view
To see Milky way or a band of stars which can be seen across the sky at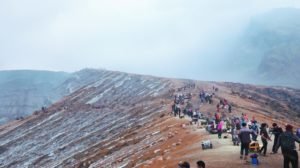 night with the certain pattern and continuously change every season is one of the main interesting experience you can get by doing Bromo to Ijen Crater trip. You can only get this moment in a place with less light, usually in a mountain or beach with no lights in your surroundings. For those who love photography or claim themselves as Milky Way hunter, then visiting both Bromo and Ijen Mountain is a must.
2. Blue fire
This rare phenomenon you can enjoy only in Ijen crater. Even the popularity of blue fire is higher than the beauty of ijen Crater itself. This interesting phenomenon appears as a result from the sulfur heat. Generally, the blue fire occurs in the dawn between 2 am up to 4 am. What makes it more interesting is because there are only 2 blue fires in this world, they are located in Islandia and Ijen Crater in Banyuwangi.
3. The first sunrise in East Java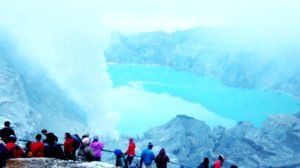 Ijen mountain is one of the highest mountains in East Java. Thus, when you visit Ijen Crater and you have the chance to see the sunrise, then you may consider yourself as a lucky person as you can see an amazing yet the first sunrise appears in East Java.
4. Kasodo ceremony
The best time to visit Mount Bromo is between December
to January where the Kasodo ceremony takes place. This ceremony is held as gratitude symbol of crop and livestock yields.
5. Epic view and location
Bromo mountain is located in Tengger Mountain complex that has a vast expanse of sand surrounded by several other mountains including mount Batok, mount Kusi, Mount Widodaren, Mount Watangan and Mount Semeru.
Those are the 5 most interesting experiences you can get by travelling from Bromo to Ijen Crater.
Copyright : Bali Java HOLIDAYS
Email balijavaholidays@gmail.com
Call/WhatsApp +6287755516005
Social Share