Bromo to Ijen Distance
Bromo to Ijen distance is 212.6 km. This is a considerable distance but usually, the tour package already
includes both places. This place does have a very strong aura and can persuade you to visit this place. If you have limited funds, then you do not have to worry because you can visit these two places. The first activity you can do is to go to Mount Bromo to see the beautiful scenery. If you live in East Java, then you can take a bus to Surabaya. The bus will stop at Bungurasih terminal and the journey will continue by taking the bus majoring Surabaya to Probolinggo at an affordable price. Do not wait for the afternoon in Probolinggo because you will find it difficult to find public transportation. You can take a
bus to Cemoro Lawang but the car will stop long to find passengers. If you do not want to wait, then you can rent a car at an expensive price. If you want to get a cheap price, then you can get acquainted with another backpacker to bargain the price so you can go to the tourist attractions at affordable prices.
The distance from Probolinggo to Cemoro Lawang takes about 1.5 hours. Cemoro Lawang distance to Bromo about 1.5 hours so you can wait a few hours until you can see the sun rising on this mountain. Do not forget to bring a thick jacket because in the cold air on this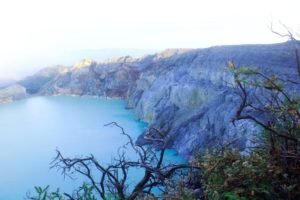 mountain can pierce your bones. The air will become colder at night. You also have to bring food and drinks to be consumed at night because the food stalls around this mountain have a very expensive price. You've managed to visit this mountain and the next destination is the Ijen crater.
You can take public transportation to return to Probolinggo terminal after you arrive at Mount Bromo. If you get public transportation that is still empty, then you do not need to
be disappointed because you can use the time to sleep while waiting for other passengers. You must rest because of the road on Mount Ijen heavier than Mount Bromo. You must prepare your energy to climb this mountain. If you have arrived at the terminal Probolinggo, then you should find a bus that goes to Bondowoso because with this bus you can reach Mount Ijen. This bus only provides economy class and you have to wait a long time. Another way is you can take the Probolinggo bus to Situbondo and take another bus that passes the Situbondo line to Bondowoso. Probolinggo normal distance to Bondowoso is 4 hours.
You can adventure to Mount Ijen by taking public transportation that goes to District Sempol and takes
about 3 hours. You have to rent a motorcycle taxi with expensive rates after you arrive at Sempol. Paltuding Post is the entrance for visitors who want to see Mount Ijen and you have to walk for 2 hours to see the blue flame that emerged from the crater. You should bring a mask, glasses, and wet towel because your eyes will be sore when exposed to smoke from the crater. The blue flame that comes from the crater will look beautiful at 2 to 4 o'clock in the morning. The path to the crater is indeed dangerous so you can ask locals to take you to this crater. That's a review of Bromo to Ijen distance.
Copyright : @balijavaholidays
Email balijavaholidays@gmail.com
Call/WA +6287755516005
Social Share